The Inequality Timebomb: how the financial crisis created a social crisis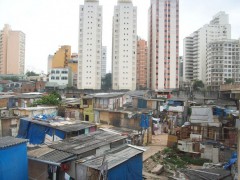 The recent financial crisis has triggered a worrying social crisis around the world, entrenching a plethora of economic inequalities deeper into the fabric of society, and threatening the still fragile and uneven global recovery.
The OECD's latest report on contemporary society reveals the overwhelming extent to which Europe's underinvestment in the public and private sector is making countries increasingly unequal and amassing an array of social problems for the future.
This view is supported by the World Economic Forum's latest annual report on risk, in which members cite inequality as the most salient threat to global economic recovery over the coming decade, and underscoring the importance of inclusive growth and inclusive social policies for future success.
Although the Forum itself is under attack for embodying a rich man's "talking" club, Klaus Schwab's warning, its founder and chairman, on rising inequality and the extraordinary proportion of wealth held in the hands of too few, should not be disregarded: "We have too large a disparity in the world; we need more inclusiveness…If we continue to have uninclusive growth and we continue with the unemployment situation, particularly youth unemployment, our global society is not [going to be] sustainable."
Inequality expresses itself in many ways, influencing people's job prospects, incomes, and living arrangements. No matter your ambition, your starting point in life – mostly determined by who your parents are and their networks – will play a significant role in determining your future life chances.
Most notably, inequality manifests itself through unemployment and persistent economic difficulties, which are also known to contribute to a myriad of health problems, including mental illness.
Equality Trust, for example, has estimated that rising inequality is costing the British economy £39 billion a year. This staggering figure is calculated by measuring the financial impact of increased crime and imprisonment rates, declining mental health, lower life expectancy and reduced overall quality of life – compared with the average level seen in other developed countries.
Duncan Exley, the Trust's chief executive said there is a growing consensus that the 'trickle-down' effect of money – an adage propagated by those at the top – is not having the desired effect: "People talk about inequality helping inspire people to work hard and try hard, but we have a situation where [the] jobs [that] are [being] created…are entry-level jobs that aren't going to go anywhere. It's like getting in at the bottom floor, but it's the bottom floor of a bungalow and there is no way to rise up."
It therefore comes as no surprise that current austerity policies, pursued by most governments globally, are creating a generation of young citizens who, instead of furthering their learning, honing skills, and increasing productivity – have spent the last few years in modern day poverty, unemployed, increasingly alienated, and discontent.
Even the IMF has changed its tune to support economists who argue that inequality is an impediment to growth. In its Redistribution, Inequality and Growth report, the Fund argues that countries with high levels of inequality, also suffer lower growth rates than countries that distribute incomes more evenly – such as Sweden, Norway, or Germany.
What's more, inequality makes growth more volatile as it leads to weak demand and unstable conditions, diminishing productivity levels, and discouraging innovation and investment. The escalating demand for credit – through pay-day loans, credit cards, and mortgages – impinges on the vulnerable most aggressively, exacerbating inequality further and perpetuating our fragile banking system.
And while it is possible to try and explain rising inequality as a consequence of things like globalisation, immigration, and the growing importance of skills and education – these effects alone do not go far enough to explain the radical redistribution of wealth witnessed in recent years.
Therefore it can only be assumed that – by failing to address the problems that have been festering for years – policy-makers are content to justify inequality as the price society must pay for the capitalist economy to work effectively. But the economy is not working effectively and the avarice that led to the previous crisis is once again showing ominous signs.
If you are interested in different perspectives on this critical issue take your pick from the Local Views below, and explore the ways in which Future Challenges bloggers from around the world think about inequality.
Tags: financial crisis, global financial crisis, growth, IMF, inequality, OECD, poverty, Social Welfare