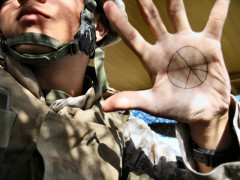 International Day of Peace falls on 21 September this year. To mark the occasion, we asked the Future Challenges community the following question:
Is peace between individuals and societies possible, or is conflict simply a part of human nature? Does it differ from culture to culture, religion to religion, nation to nation?
Even asking the question sparked a discussion, with Masha Egupova from Russia, Rabab Khan from Pakistan, Yohana de Andrade from Brazil and Kira Kariakin from Venezuela all responding to my initial request at some length. The conversation that has started is an important one; read what our writers (Local Views) have to say, and share your own opinions.
*Photo taken by Jayel Aheram, published on Wikipedia under a CC BY 2.0 license.
Tags: conflict, culture, International Day of Peace, peace, religion, war
Tom Fries
Erstwhile neuroscientist ('97-'00), rowing coach ('99-'10), business student ('07-'09) and cupcake entrepreneur ('09). Now enjoying international work in the Germany and Washington offices of one of Germany's most prominent think tanks.
Most recent Local Views on 'War - peace'