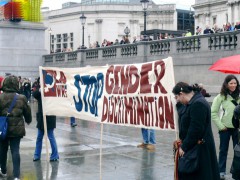 International Women's Day is a reminder of the continuing need for urgent action to support socially inclusive and anti-discriminatory policies in all areas of politics and business, regardless of sector. Discrimination in industry, politics academia and elsewhere concentrates influence in the hands of particular groups, and the tradition of inheritance (whether to family members or simply to members of similar social groups) helps to keep that influence concentrated for generations. As long as leadership and influence remain in the hands of one gender, one race, one caste, one economic stratum, we are all missing out on the creativity and robust solutions that diverse thinking can provide.
Many of Future Challenges' finest and most engaged writers are women, and so we felt it was appropriate to celebrate International Women's Day by offering all of our writers – with, of course, a special invitation to our female bloggers – the opportunity to submit personal anecdotes of their experiences both good and bad. We're looking forward to read many interesting blogposts!
Tags: discrimination, equality, gender, International Women's Day, women
Tom Fries
Erstwhile neuroscientist ('97-'00), rowing coach ('99-'10), business student ('07-'09) and cupcake entrepreneur ('09). Now enjoying international work in the Germany and Washington offices of one of Germany's most prominent think tanks.
Most recent Local Views on 'International women's day'