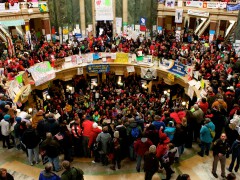 The Future Challenges team works together to choose each topic that we discuss. We gather proposals from our network, select a general topic from these proposals, draft several important questions, and then vote together on the final question.
This content package deals with the relationship between the state and its citizens, both how it looks now and how it might look in the years ahead as economic, demographic and social pressures build. Our team voted for the following question:
Economic woes and changing demographics across the globe have brought to the fore questions about the relationship between states and their citizens. Will massive changes in our economies and societies also force us to re-think the social contract? In the future, will many states be drifting slowly towards the welfare-state model, or will new models rise up instead? What can (or should) citizens expect from their governments in the future?
Future Challenges authors are in 65 countries in the developed and the developing world. Take your pick from the Local Views on the right, and explore the ways in which writers from around the world think about this critical issue.
Tags: Cities, Civil Society, democracy, developing countries, education, globalization, Good Governance, Governance, human rights, urbanization, youth unemployment