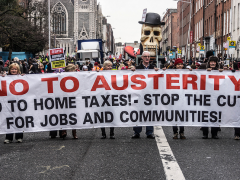 For years now, austerity and government spending cuts have been on the lips of many in countries around the world. On one hand, protests against austerity measures have rocked many cities. On the other hand, many believe that severe cuts to government spending are the only long-term solution to the global financial crisis. While economists, politicians and pundits debate whether we should save or spend, the personal and community-level effects of austerity measures can go unnoticed. Where do things stand right now?
Are people doing better? Are they doing worse? Do they even notice a difference?
Are austerity policies making inequality in our societies worse, or better? How can we see this?
What has changed in this new climate of government spending? How does it vary between countries? Do people see austerity policies as desirable? As necessary evils? As dangerous mistakes?
Future Challenges authors are in 65 countries in the developed and the developing world. Take your pick from the Local Views on the right, and explore the ways in which writers from around the world think about this critical issue.
Tags: austerity, austerity measures, budget deficits, economy, financial crisis, government spending, jobs
Tom Fries
Erstwhile neuroscientist ('97-'00), rowing coach ('99-'10), business student ('07-'09) and cupcake entrepreneur ('09). Now enjoying international work in the Germany and Washington offices of one of Germany's most prominent think tanks.
Most recent Local Views on 'Austerity: Less is More?'