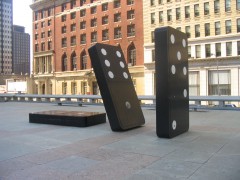 The Future Challenges team works together to choose new topics. We gather proposals from our network, select a general topic from these proposals, draft several important questions, and then vote together on the final question.
This content package deals with the impacts of the economic crisis. Our team voted for the following question:
With ever-stronger bonds across borders and oceans, an economic crisis in one part of the world is bound to impact others. How does the current economic crisis in many of the world's developed countries affect less-developed nations? Are there changes in remittances, changes in migration, or other important effects? How can we ensure that our growing connectivity makes each of us stronger and more resilient to crises?
Future Challenges authors are in 65 countries, in developing countries as well as in developed countries. Take your pick from the Local Views on the right, and explore the ways in which writers from around the world think about the impacts of the economic crisis.
Tags: developed countries, developing countries, economic crisis, economic globalization, euro crisis, financial crisis, unemployment
Tom Fries
Erstwhile neuroscientist ('97-'00), rowing coach ('99-'10), business student ('07-'09) and cupcake entrepreneur ('09). Now enjoying international work in the Germany and Washington offices of one of Germany's most prominent think tanks.
Most recent Local Views on 'Contagion'