Democracy on Life Support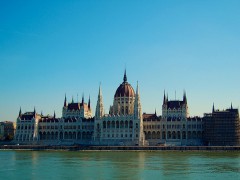 The Bertelsmann Transformation Index 2012 looked comprehensively at political and economic transformation as well as political management in 128 countries in transition. Among highlights and "lowlights" from around the world, East Central and Southeast Europe – albeit highly advanced on its transformation path – stood out as a region in which governance is losing ground, with rollbacks in freedom of speech, integration policy, etc.
The poster child for this is the nation of Hungary, a Central European state that entered a period of "reforms" after the center-right Fidesz party won recent elections. Ongoing reports from the country are concerning and, sometimes, alarming. The dominant party, led by Victor Orbán, has already introduced changes to media laws, the country's political structure, and internal and external security policy.
Taken as a group, these changes are almost uniformly seen as anti-democratic by outside observers. But is this accurate? To get the best perspective on these issues, Future Challenges talked with four experts.
Citizen X, a Hungarian Fidesz supporter who prefers not to be named.
Hauke Hartmann, of the BTI
Kinga Szálkai, a Future Challenges blogger from Hungary who does not support Fidesz
András Inotai, former Director General of the Institute for World Economics in Budapest (video interview – click here to view)
We asked the following questions. Excerpts of their answers are below. Click on the links to see the full debates.
Click here to see the full-length introduction and questions in a single post
Do you think policies such as those of Fidesz/Orbán are viable in the twenty-first century? Do you think they are appropriate to prepare Hungary as an EU member state in the next 5-10 years?
Szálkai: A small, poor and crisis-ridden country in the heart of Europe, like Hungary, cannot and should not stand up against the mainstream integrational processes of nowadays, and can only have a future as a cooperating part of them.
Citizen X: The full economic and political integration of Europe is not possible, because there is another layer beyond economics and politics: the layer of language, identity, way of thinking (not to mention economic or political capabilities), that is very different all around Europe.
Hartmann: If recent BTI results constitute a trend and not just a snapshot after the global economic and financial crisis, a nationalistic, xenophobic and majoritarian style of populist governance may well remain influential or even gain in importance. This, however, does not make it any more viable.
Click here to read full answers from Kinga, Hauke and Citizen X…
Do Orbán's politics contribute to the broader economic and political crisis in Europe? If so, how? If not, why do you see them as isolated?
Citizen X: The ambivalent negotiation policy of the Orbán government against the IMF does not help the stabilization of the Hungarian economy or the recovery of the trust of the markets, and it has negative effects on the EU as well.
Hartmann: An unfortunate development is the slow and lukewarm response which the erosion of rule of law in Hungary has been receiving from Brussels and other European capitals. If the EU is perceived to be a paper tiger when it comes to democracy and human rights standards, establishing standards which it is unable or unwilling to keep up at home, a crisis of legitimacy arises which will be hard to overcome.
Szálkai: If Hungary experiences a decline in democratic values, let alone European values, or in economic growth, it definitely contributes to a decrease in trust and credibility towards the EU – and, in this way, it contributes to the deepening of the economic and political crisis in Europe as well.
Click here to read full answers from Kinga, Hauke and Citizen X…
How entrenched do you think Orbán's "reforms" already are? Do you think the next government could reset them, if there is a change in political attitudes? Are there any reforms that will be extremely hard to set back to the pre-Orbán state?
Hartmann: Even if the constitutional changes might be reversed or modified, the political posts of nominally independent state institutions still are filled with loyal Fidesz-supporters. The rightist government thereby firmly anchored its reactionary policies in institutional changes and strategic nominations. Even if voted out of office, the framework it currently sets will be hard to undo.
Citizen X: The implementation of the new constitution was timely and acceptable, the preceding and following institutional changes (the restructuring of the Media Council and the Constitutional Court or other national public institutions) are likely to prevail in the long term as well.
Szálkai: I am very pessimistic about the resetting of the laws that can only be changed with a two-third majority. (…) There is another negative change that I find more important and will be extremely hard to restore in the course of time, and that is the significantly decreased trust in democratic institutions.
Click here to read full answers from Kinga, Hauke and Citizen X…
How is it that Orbán's party is so popular, despite criticism from outside Hungary? Is it just populism and some sort of economic revanchism, or is it something more? Is it the sense of the 'big Hungary' and the post-War order that makes people so prone to the populist rhetoric?
Hartmann: There is a reform fatigue and a general feeling to have contributed a fair share without feeling positive socioeconomic effects. Populist politicians are able to exploit these sentiments by blaming "the establishment" and "Brussels"…
Citizen X: Orbán and his government try to represent the possibly broadest layers of the society and to gain their support – should we call that populist?
Szálkai: Many people perceive that they are only 'second-class' citizens of the EU, and the comparison with Western European countries makes them even more disappointed. In my opinion, this state of despair makes the Hungarian society so receptive to populist rhetoric that invokes economic successes and national pride, promising a way out from the present situation.
Click here to read full answers from Kinga, Hauke and Citizen X…
Do you believe a local ethnic conflict is still possible in Central Europe (e.g. with Romania, Slovakia, Serbia, or Slovenia)?  Why or why not?
Hartmann: I honestly don't know.
Citizen X: Central European politicians may act according to bad historical reflexes and habits, but we should not play the role of the scaremonger! Everyone should support the understanding and development of different identities, they should be made acceptable and possible to live with, and no-one should treat them in violent or suppressive ways.
Szálkai: In spite of the hostile rhetoric that occurs time to time between these countries (or rather between the fringe groups of these countries), they are united in many international organizations and local initiatives, and they are aware of the fact that their main national interests can only be achieved by means of cooperation.
Click here to read full answers from Kinga, Hauke and Citizen X…
Picture: Hungarian Parliament on the Banks of the Danube. Photo taken from Jrwooley6 on Flickr (CC BY-SA 2.0).
Tags: democracy, eu, European Union, Fidesz, freedom, freedom of press, politics, Victor Orbán